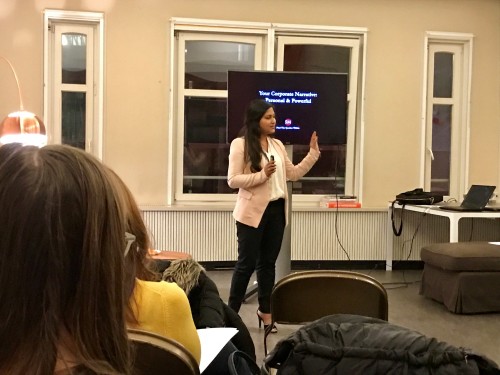 Your Corporate Narrative: Personal & Powerful
Why do you choose your career?
What connects your professional journey to your personal life?
How can you present your professional story to your audience that's unique and different from the rest?
On the 24th of November, N2WE welcomed Sangbreeta Moitra, a corporate storyteller, as a guest speaker. Her motivational talk - 'Your corporate narrative: personal & powerful' - consisted of many eye-openers about ourselves and resulted in a very interactive and inspiring session. Childhood experiences, our hobbies, our 'heroes'....all aspects of our life that help define who we are, what values we have and what we stand for. With a fusion of business storytelling, pitching and personal anecdotes, Sangbreeta made the session leave an indelible impression in the minds of the audience.
Sangbreeta made us discover elements, moments and experiences from your personal life, to find and define the professional you are today. A fusion of business storytelling, pitching and personal anecdotes, which made our professional narrative personal and powerful.
Sangbreeta is an international award-winning public speaker and corporate storyteller based in The Netherlands. Her passion is to connect to her audience with messages and skills that help audiences find the unique speaker within.
Her journey in public speaking took her to win top awards in European public speaking championships in 2013 and 2014; while she also endeavors in a corporate leadership position as Global Project Manager in the pharmaceutical industry.
Today, Sangbreeta has given keynotes, talks and workshops across Europe in TEDx, Royal Dutch Shell, INC Research, University of Amsterdam, University of Groningen, Rotaract, The Netherlands Expat Fair and 'Unleash Your Words' Barcelona to name a few.